Offering innovatively designed Automatic Cow Milking Machine, Mini Milking Machine, Electric Cow Milking Machine, Trolley Cow Milking Machine, etc.
About Us
Since the time of our inception, in the year 2005, we Shreem Dairy are the most demanded and reputed manufacturer and supplier of a wide range of Dairy Equipment which include Automatic Cow Milking Machine, Two Bucket Milking Machine, Single Bucket Milking Machine, Electric Milking Machine, Cow Milking Machine, Dry System Milking Machine, One Bucket Trolley Milking Machine, Fixed Single Bucket Automatic Milking Machine, Nano Milking Machine, SS Cow Milking Machines etc. These products are used in production and storing of milk and milk products and are highly needed in various Dairy Farms and Industries. The raw materials used in manufacturing of these equipment include aluminum, stainless steel, metals, rubber etc, each of the raw material used during the manufacturing these products are of top grade quality and hold a lot of efficiency. With the advancement in technology, we have used the modern machines and latest tools during the manufacturing process to have an excellent range. We are a client-centric company, which ensures to offer only those
Mini Milking Machine, Trolley Milking Machine, Three Bucket Milking Machine, Machine with Engine, Two Bucket Milking Machine with Engine, Eight Bucket Milking Machine,
that possess salient features like high durability, low energy consumption, easy maintenance and rugged construction etc.
We have a profound infrastructural facility which enable us to meet all the market requirements and gain immense appreciation in the market. Our infrastructure is updated with all the needed machinery, equipments and other resources that support workers throughout the production and post-production tasks. Our large and spacious warehousing facility enables us to store the products in good conditions and also protect them from all sort of damage. In addition, we get complete support of our swift and smooth transportation network to deliver our products at the clients' place in the stipulated time frame.
Primary Competitive Advantages
Competitive Rates
Fair Business Ethics
Adherence to Quality
Timely Delivery of Products
Experienced and Reliable Working Force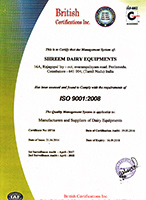 Get in touch with us